WHS Circle of Friends recognizes/celebrates 'Disability Awareness Month'
Students raise awareness and importance of inclusion; penny war fundraiser yields over $1,700!
2018 WHS Circle of Friends, front row (from left): Lara Celesky, Kendal Brigham, Kaitlyn Herndon, Paige Peterson, Erica Carnahan, Tessa Gatewood. Middle row: Maya Foxworthy, Jacob Weichman, Ben Eriksen, Anthony Hoffman, Ruzicka Carlson, Madison Valish, Hunter Celesky. Back row: Aby Lowther, Devin Weichman, Greeley Hauswald, Nate Fox, Kyla Swanson, Zach Sanderson, Xander McClain, Vincent Hutson.
October was Disability Awareness Month, so Circle of Friends wanted to spread some awareness!
Each week throughout the month, the COF group talked about different disabilities, including autism, Down syndrome, specific learning disabilities, and intellectual disabilities. Warrior Periods then played videos that also explained the different disabilities in more depth.
Circle of Friends is a grant-funded program through the Autism Partnership and the Autism Spectrum Disorder (ASD) Network. For the past several years Wahoo High School has been granted $2,000; however, due to changes in funding, COF only received $300 this year. This money is used to buy curriculum and games to teach social skills, as well as pay for outings for the students, to help implement the taught social skills in settings outside of the school.
Circle of Friends is a social group that teaches not only social skills, but also importance of inclusion, and making new friends outside of your comfort zone.
"Circle of Friends gave me the opportunity to get out of the house," said Devin Weichman. "I was able to do activities with friends that I normally don't get to do."
WHS Freshman Ruzenka Carlson agrees.
"Circle of Friends is a group about making friends and learning social skills. I like to hang out and talk to everyone during lunch meetings," Carlson commented.
Many of the members also participate in Unified Bowling and Unified Track.
Lasting friendships have been built through this group. Wahoo High School has had a Circle of Friends group for about five years.
"Watching the growth of all the students is very encouraging, but more than that, seeing the life-long friendships develop between students that might never have crossed paths, is the perfect picture of spreading joy!" said WHS Paraprofessional Judi Storm.
"Last year was my first year teaching at Wahoo and facilitating a Circle of Friends group," said WHS Transitions Instructor Samantha Jacobson. "During the first month of school, a past Wahoo High student came back to visit some of the students in my classroom. It was amazing to see this because it showed me what this group can do to help those who struggle with making friends."
Circle of Friends also hosted a Penny War challenge to raise money. Pennies counted as positive points, while silver coins and dollar bills counted as negative points. The challenged lasted the whole month, and the winning Warrior Period was given free donuts, but it became much more than that!
"I only thought we were going to raise $400." Jacobson commented. "However, once students and staff got the hang of the challenge and learned more about Circle of Friends, my expectations were blown away!"
Warrior Periods also came together to team up against one another. Teachers created "hit lists" and sent students to different classrooms.
"I told my homeroom we wanted to win for Jacob [Weichman], who had been in our Warrior Period for four years," said Larry Fangman, whose Warrior Period indeed won the competition.
The COF Penny War Challenge raised a total of $1,467.95! Teachers in the district were also able to wear jeans every Monday in October if they brought $1 each week, and that raised $284.00. So our grand total was $1,749.95!
"This means a lot to us," stated new member Zach Meyers. "Circle of Friends thanks everyone who donated. I hope next year we can raise more money for this great group."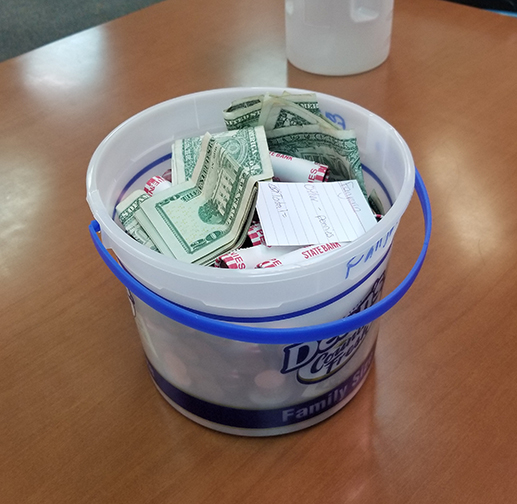 WHS students and staff raised over $1,700 for the WHS Circle of Friends group!