Wahoo Elementary Principal Ben Kreifels
Welcome to Wahoo Elementary
2022-2023 theme is "ABOVE and BEYOND!"
ELEMENTARY LINKS
---------------
August 2022
Warrior Families,
Welcome back to Wahoo Elementary for the 2022-2023 school year! I hope you've enjoyed summer with a nice balance of rest and family activities. If your family had a whirlwind summer like mine, I encourage you to squeeze in whatever you need in the next few weeks - fun or relaxation - so your kids are ready to come back at their best! Be sure to reflect on the small moments you've enjoyed with your kids like bike rides, reading books together, catching fireflies, and laughter. As your family's summertime moments are coming to a close, you can take comfort in knowing that the staff in our school are eager to create lots of special moments in the coming year, full of learning and laughter!
At Wahoo Elementary, we realize that small moments - just like our small students - are what matter most. That's why there has been LOTS of hustle and bustle within the school this summer, in preparation for our students to return! Our dynamite maintenance and custodial team have worked hard to clean and update our building, and several teachers have moved classrooms over the summer to maximize space for our growing enrollment. Please join us at Elementary Back to School Night on Tuesday, August 16 from 5:00-7:00 p.m. to explore the building and, most importantly, begin establishing a great working relationship with your child's teacher. We are excited to see you!
Our school theme this year, "ABOVE and BEYOND!" primarily focuses on encouraging each other to be our best! The goal of this theme is to continue building upon the psychology of growth mindset and encourage our children to grow beyond basic expectations while capitalizing on their unique strengths and personalities. Each of us faces unique challenges, but we also have loads of strengths and potential. Going "ABOVE and BEYOND" means pushing yourself to utilize personal strengths in new, unique ways as you become the best version of yourself. Our theme is also a sign of our school's commitment to your child. Our continued pledge is to always give our best to the children we care for each day. At Wahoo Elementary, we go ABOVE expectations because we care BEYOND measure!
Sincerely,
Ben Kreifels, Elementary Principal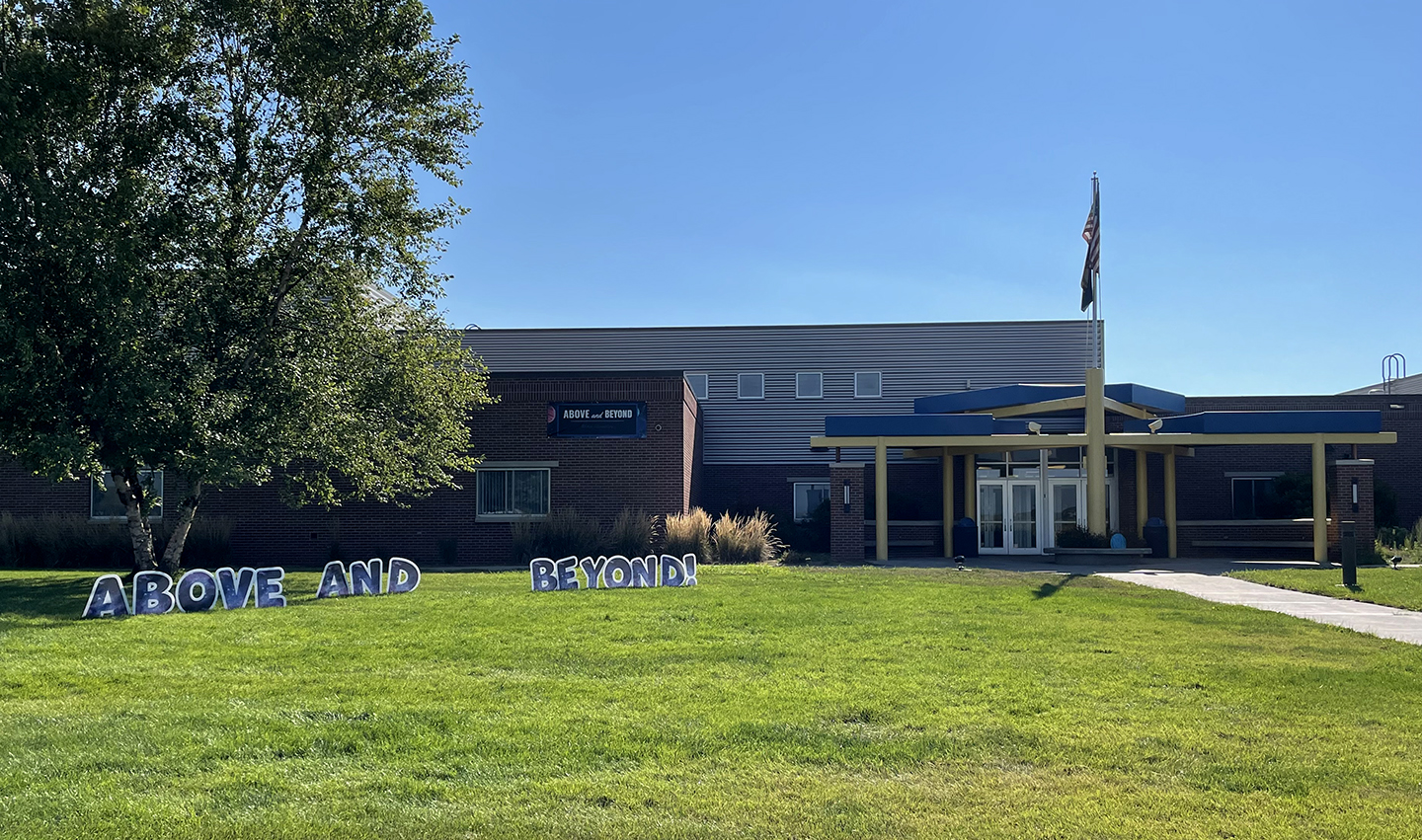 General School Items:
The first student day is Thursday, August 18. Elementary will dismiss at 1:15 p.m. that day.
Back to School Night - Please join us on August 16 from 5:00-7:00 p.m. to meet your child's teacher and bring school supplies. This is also the best time for you to update your family's Enrollment Update form; we will use your updated information to contact you throughout the year.
Important Lunch Information - The elementary will begin using the same scanning process for meals as the middle and high school. This will mean students no longer need to memorize lunch codes in order to pay for meals. Please stop in the cafeteria during Back to School Night to set up your student's scan. This will help breakfast and lunch go smoothly on the first day of school.
Supervision & School Hours - Breakfast and morning supervision begin at 7:45 a.m. Doors to the building remain locked and supervision is not available before this time, so dropping students off early is discouraged. The first bell for class rings at 8:05, and students must be seated in classrooms by the tardy bell at 8:15. School dismisses daily at 3:15 p.m., and all children must be picked up by 3:30. Do not leave children unattended on school grounds before 7:45 a.m. or after 3:30 p.m. Please be patient during arrival and dismissal. It takes our young students time to learn their routines.
Transportation - If you have questions regarding transportation to and from school, contact the Superintendent's office at (402) 443-3051. Bus drivers will be available at Back to School Night for you to meet.
Security & Signing In - Engaging families and the community within our school is important to us! You are welcome and encouraged to visit during lunch or at a time approved by your child's teacher. Please be advised ALL visitors are expected to sign in at the office and wear a nametag while visiting during the school day.
Early Dismissal & School Closing - Please look over the district calendar and make note of scheduled early dismissals. Additional calendars and schedules are available on the school website. If the school schedule is altered due to weather, it will be announced via the phone alert system, social media, and news stations. Please notify the school if your contact information has changed. Doing so allows us to communicate with you more effectively.
Appointments & Instructional Time - Occasionally, medical appointments and other high-priority meetings must be scheduled during the school day. Please understand when scheduling these and other obligations that instructional time is a high priority. Missing school should be a last resort. If your child does need to leave for such an appointment, please notify office staff and teacher in writing in advance.
Illness & Absences - If your child is ill or misses school for any other reason, call the school office by 8:45 or earlier on the morning of absence. Per Saunders County Unified Attendance codes, students will be counted truant if a parent does not call to excuse the student prior to this time. Parents of absentees will receive a phone call if we do not hear from you.
School Pictures - Studio 123 will take student photos of elementary students on Thursday, September 1.
Immunizations & Forms - All students must have current immunizations or meet the waiver requirement. A valid birth certificate must also be on file. Contact WPS Nurse Josh Trutna (402-443-4250 ext. 1003, email: jtrutna@wahoowarriors.org) if you have questions regarding immunizations or medical forms. Note: COVID-19 vaccines are not required.
Student-Parent Handbook - A handbook will be given to you at Back to School Night or sent home in a manila envelope. Each family must sign the School Handbook Acknowledgement form and return it to school by Friday, August 19.