Congratulations to the two Wahoo Robotics teams that earned the title of 2022 Middle School State Champions! Pictured from left: Team 91416F (Cyril Kavan and Ty Hurley), and Team 91416A (Alex Gokie, Carter Chmelka, and Dominic Benes).
Wahoo Robotics capture CHAMPIONSHIPS & RUNNER-UP trophies @ 2022 Middle School State Competition!
The Wahoo/Calvary Youth co-op secures top 3 places of 20 qualifying teams state-wide!
The 2022 STATE ROBOTICS MIDDLE SCHOOL CHAMPIONSHIP TEAMS and RUNNER-UP are from Wahoo Robotics!
The Nebraska Middle School State Robotics Championship was held this past weekend at Cross County Community Schools. Twenty middle school teams qualified for State, six of which were from Wahoo Robotics, a co-op program between Wahoo Public Schools and Calvary Youth.
Teams 91416F (Cyril Kavan and Ty Hurley) and 91416A (Alex Gokie, Dominic Benes, and Carter Chmelka) finished as State Champions! Team 91416N (Owen Sanderson and Joe Stava) and a team from D.C. West were the runners-up.
Wahoo teams also won some additional awards: Team 91416N (Owen Sanderson and Joe Stava) won the Judges Award, and Team 91416D (Maddie Wiese, Ella Kramer, Sydney Hurley, and Nora Herrera) won the Sportsmanship Award!
"If you've never been to a Robotics competition, you need to add it to your bucket list!" commented Barb Shanahan, one of the Wahoo Robotics Club co-sponsors. "It is fast, intense, and exciting!"
Each year a different game is announced, and the students build a robot according to the outlined requirements of the new game.
This year's game is called "Tipping Point."
Each arena is a 12' x 12' field with two Alliances: one red and one blue, each made up of two teams. Schools are randomly paired for this event.
The object of the game is to get more points than the other Alliance by scoring rings, moving mobile goals to their own Alliance zones, and by elevating on platforms at the end of the match.
The platform looks like a teeter-totter, and it takes great skill to get your robot and mobile goals to all balance at the same time on this platform. Each match lasts a total of two minutes. The robot runs autonomously for 15 seconds, and the robot is student-driven for the remaining time.
"A lot of the schools we compete against have Robotics in their curriculum; it is a class," Shanahan said. "The fact that Wahoo Robotics is a club that meets at night and on weekends and has the success that we do, says a lot about our coaches and parents."
Congratulations Wahoo Robotics on an amazing year!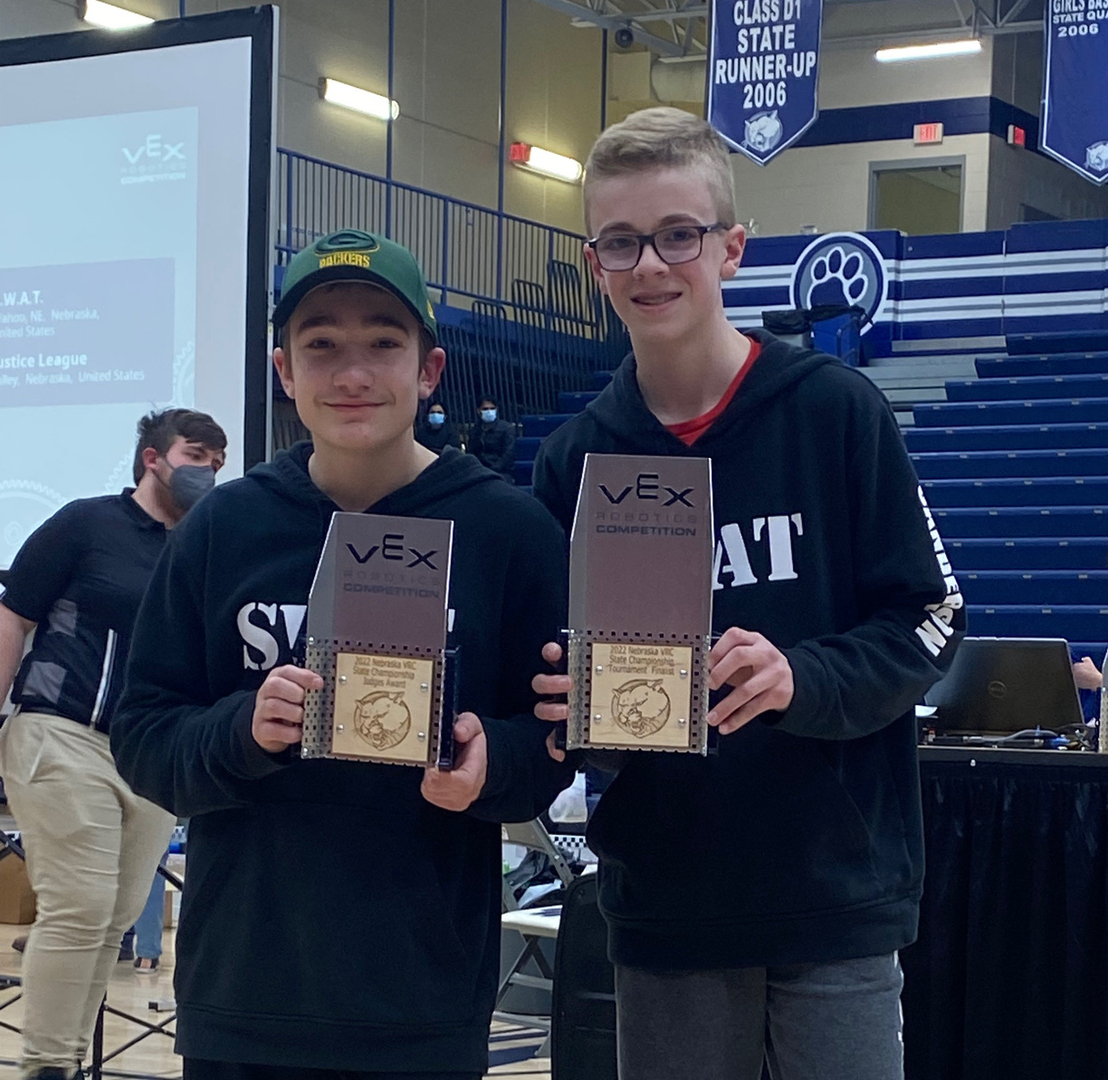 Congratulations Team 91416N (Joe Stava and Owen Sanderson) on earning the runner-up trophy, along with their partnered team from D.C. West!

Congratulations Team 91416D (Ella Kramer, Sydney Hurley, Maddie Wiese, and Nora Herrera [not pictured]): winners of the Sportsmanship Award!