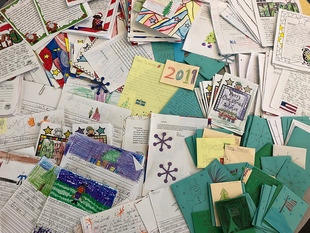 YouTube video sparks district-wide effort to lessen emotional stresses of U.S. troops separated from family during Holidays
There's no place like home for the Holidays, but for thousands of servicemen and servicewomen stationed across the globe, being home is not a realistic Christmas wish.
There are many sacrifices that accompany the decision to serve in the U.S. Military. One of the most challenging: being away from family during Christmas.
Wahoo native Jason Bromm (WHS Class of 1988) and his wife Jennifer, a U.S. Army Judge Advocate General, understand the emotions attached to being separated from loved ones during a Holiday meant to bring loved ones together.
The couple is stationed at Camp Zama, a U.S. Army post located about 25 miles southwest of Tokyo, and has prepared to celebrate their daughter Bailey's first Christmas approximately 6,050 miles from Eastern Nebraska.
Thankfully, with sacrifice often comes blessing. For the Bromms, this year's Christmas blessing was delivered electronically, courtesy of Teleflora, which brought "home" to the Bromms for the Holidays:
Many of our troops serving overseas are young men and women experiencing this seasonal loneliness for the first time in their lives. An occasional Skype or FaceTime connection with family helps, as does receiving a letter in the mail . . . a welcomed "highlight of the day" for any soldier serving thousands of miles from home.
Enter Shannon Hauswald, the coordinator for Wahoo High School's Career Exploration Opportunities program, who is a family friend of the Bromms.
In communicating with Jason Bromm, it became clear to Hauswald that there was one gift for the troops serving in Tokyo, which could be given by anyone, that would help make this time of year just a little more joyful: "Dear Soldier" letters.
Hauswald took that message to the Wahoo Public Schools' staff, and they took it from there! Our troops needed letters, and our teachers never pass up a good writing opportunity for their students . . . especially this one!
"Family means everything to me, and I can't imagine not being able to see mine frequently, much less during the holiday season," Hauswald commented. "I felt a tug to do something after watching this video, and am so grateful to work in a school district that feels the same. I know the end of the semester is a busy time, but I was hoping a few classes in each building would be willing to write some 'Dear Soldier' letters."
The WPS staff spread the word to students district-wide, and more than "a few" responded!
This provided the perfect opportunity for kids to express their appreciation, in writing and through art, for what has been sacrificed by so many. In our classrooms, libraries, and computer labs last week, students did just that.
"I wasn't sure how this assignment would go over with my juniors, but they took it on and wrote some appreciative and sincere letters to our troops," said WHS English Teacher John Minnick.
In addition to their thank yous and well-wishes for a Merry Christmas, many students also shared their own family Christmas traditions, and inquired about how the Holidays are celebrated at their military base.
"Jason told me to collect the letters and send them to Jen's A.P.O. and they would take care of distribution on their end," Hauswald added.
When all was said and done, over 650 cards, notes, and pieces of art were boxed up, and are currently en route to Japan, set for delivery in time for Christmas.
"The response was overwhelming!" Hauswald said. "Teachers were reaching out to me daily asking for details and letting me know their students were excited for this project. The teachers enjoyed having a writing project with a heartfelt purpose attached, and the excitement of the students was evident through the detail in their letters and drawings."
According to Hauswald, the Bromms are planning to take photos of the unboxing and distribution to share with our students, so the students can see the end result of their efforts.
So to those who serve in Tokyo: we hope these letters bring a smile to your faces, along with a little comfort as you celebrate this season away from your families. And to all of those who serve around the world, we thank you for your selfless sacrifices, and wish you a Merry Christmas and peaceful New Year.
read more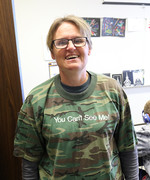 WMS/WHS Art Teacher remembered as passionate educator and friend; leaves legacy of fighting adversity with 'perseverance, grit, and grace'
There was a quiet, fun-loving grace about Wahoo Middle/High School Art Teacher Kim Brigham. "It is safe to say that I wouldn't be where I am today without the role Mrs. Brigham played in my education," reflected Ben . . .