The newly-reinstated WHS Warrior Marching Band performed in the Oct. 11 Bennington Marching Competition. The Warriors received an "Excellent" rating from the judges.
Newly revived WHS Warrior Marching Band receives "Excellent" rating @ Bennington
Public encouraged to attend Oct. 18 competition at Ashland
On Saturday, October 11, the Wahoo High School Marching Band performed at the first ever Bennington Marching Competition.
This was the second time the Wahoo Marching Band has performed in field competition since reinstating the field program, and the first field competition of this year.
This year's show is superhero themed. The band is playing "The Captain America March," "Can you read my mind?" (from Superman), and "Batman." The marching band performed confidently and received an "Excellent" rating from the judges.
On Saturday, October 18, the marching band will compete in Ashland at the annual Oxbow Marching Competition. The Wahoo Band's performance will be at 5:06 p.m. This competition is open to the public at the Ashland Football Field. Admission is $5 for adults and $4 for students. Please come out and support the band!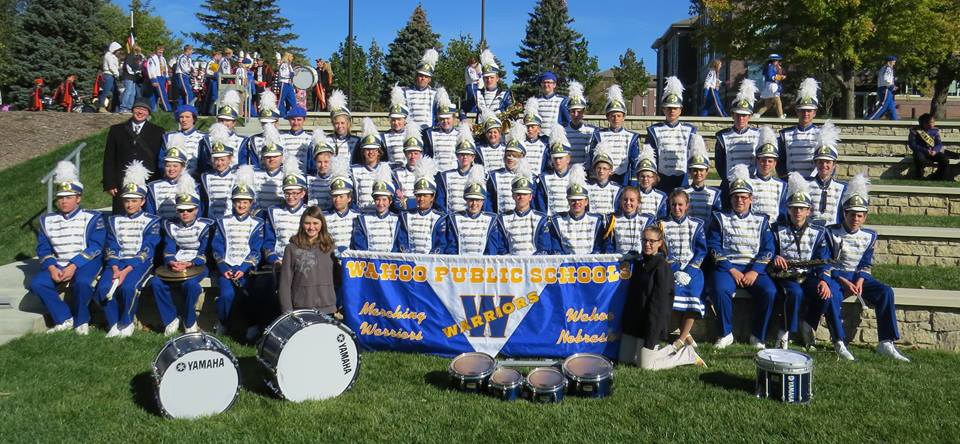 2014-2015 WHS Warrior Marching Band.
Newly revived WHS Warrior Marching Band receives "Excellent" rating @ Bennington
John Harris

Wahoo

Principal

Oct 26, 2014

I am so proud of our music programs at WPS. This is just another example of the vision that Mr. Smith and Ms. Anderson have for our students. Through vision, hard work and dedication, these two leaders are building programs that our students and our community can be extremely proud of and that will benefit all for years to come!
Melanie anderson

Manderson20@wahoowarriors.org

Walker

End of class

Nov 11, 2014

Go band and especially manda panda