Wahoo Royalty visits USD's National Music Museum; competes in 'Rhythm in Red' show choir invitational
Wahoo crowned Division A Grand Champions!
The WHS Royalty show choir, show band, and tech crew at the National Music Museum at the University of South Dakota in Vermillion.
On Saturday, February 27, 2016, Wahoo's high school show choir Royalty traveled to Vermillion, SD to compete in the Rhythm in Red Show Choir Invitational.
Prior to their eventful afternoon, the team made a stop at the University of South Dakota to visit the National Music Museum. The museum is known for its renowned collection, which includes over 15,000 American, European, and non-Western instruments that cover all historical periods and cultures.
A tour guide led the students on a tour that covered instruments such as keyboards from the 1700's, violins created by Andrea Amati and Antonio Stradivari, percussion and brass instruments of the Civil War era, guitars played by Johnny Cash, Elvis Presley, and Bob Dylan, as well as the gamelan (an instrument that is a combination of metal bars and knobbed gongs played in a group setting).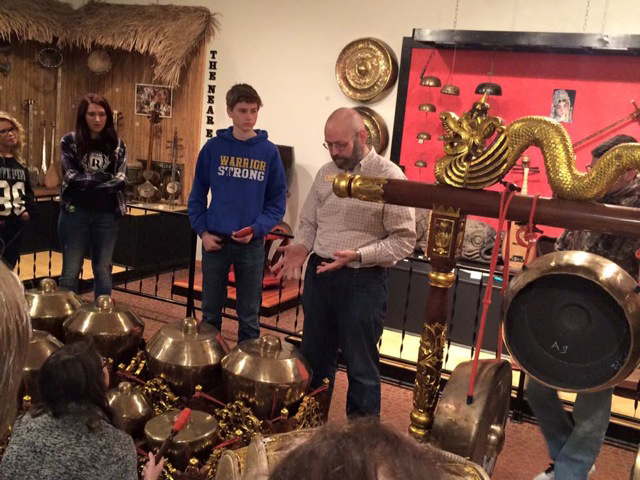 Students listen to the tour guide explain the gamelan and the words they use to associate with each gong and metallophone.
Lily Ellis, Jack Krenke, Hunter Celesky, and Sydney Holdsworth were first among the group to be chosen to play the gamelan.
Select students were allowed to participate in a demonstration of the gamelan, having the opportunity to play the traditional music of Java and Bali in Indonesia.
Following their visit to the National Music Museum, Royalty traveled to Vermillion High School to compete against other South Dakota and Iowa show choirs.
Royalty was the only school from Nebraska to attend the competition.
Wahoo Royalty's performance placed first in Division A! This is the second time this season Royalty has placed as division champions, having placed first at the Sioux Falls Roosevelt Executive Showcase.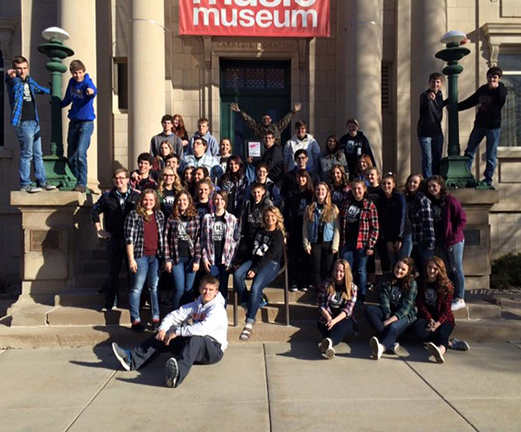 Left: Cole Talbert and Tylie Tingelhoff accept the trophy for first place in Division A.
Right: Hunter Celesky presents a close-up of Royalty's trophy from the Rhythm in Red Show Choir Invitational.